First charcoal purchase
After visiting Direct Charcoal in Derbyshire and looking at their facilities and controls we were able to approve them as a supplier.  We agreed a price and then issued our first purchase order in December 2017.  This referenced our Charcoal Specification, that meant we had documented the feedstock, production methods and toxicity limits.   They delivered 6 pallets of charcoal, together with the FSC certification to us in Yorkshire.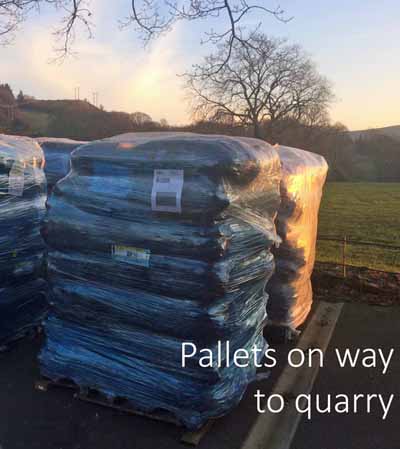 We used another local company in Manchester for the carbon and toxicity analysis of samples from 4 pallets.  This gave us the average carbon content, the moisture and ash contents.  From this we calculated the amount of Carbon per pallet.  Allowing for the amount of carbon used for the pallet transport we could then see how much CO2 it offsets.  The toxicity analysis for PAH and heavy metals also showed that it was pure enough to meet the 'High Grade' standard of the Biochar Quality Mandate.  This means it is safe to use on soils, and also safe for long term storage.
On to 'Calculator Development'